Kainai Transition Centre
Strives to enhance the quality of life of our community by providing recovery, justice, and training programs, supports and services based on the foundational principles of Kainaissinni.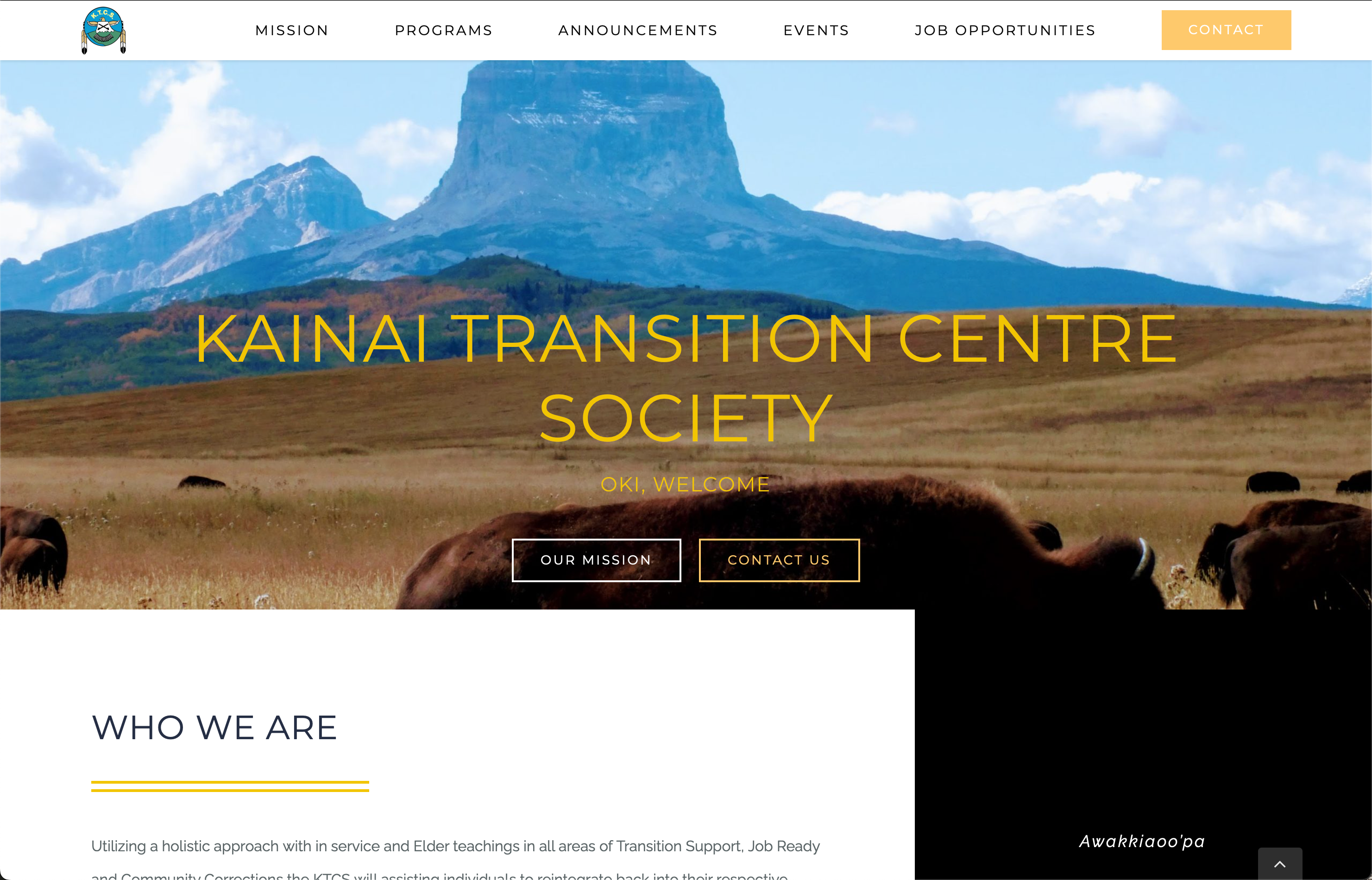 ROLE: Web Development, Web Design & Project Management
CLIENT: Kainai Transition Centre Society
Project Objectives:
Give Kainai Transition Centre a look, feel and voice that represents the organization.
Effectively represent Kainai Transition Centre 's brand identity through a visually appealing design, reflecting their values, mission, and commitment to service excellence.
Transform the website content so that it's accessible, up-to-date and aligned with Kainai Transition Centre's values.
Provide an inclusive, trauma-informed experience for all users.

Website objectives:
Accessibility: Provide clear, easy access to Avalon's services and adhere to accessibility standards.
User Engagement: Invite people to join an inclusive community of care focused on healing through recovery, justice, and training programs.
Educate and Advocate based on the foundational principles of Kainaissinni.
SEO and Visibility: Implement SEO strategies to enhance the website's visibility on search engines, making it easier for users to find Kainai Transition Centre's services online.
Adaptability: Design the website with scalability in mind, enabling easy updates and additions as Kainai Transition Centre's services and offerings continue to evolve.
Compliance: Ensure the website adheres to relevant data protection and privacy regulations, providing a secure and trustworthy experience for users.
Performance and Speed: Optimize the website's performance to ensure fast loading times, reducing bounce rates and enhancing user satisfaction.
Analytics and Insights: Implement tracking tools to gather data on user behaviour, allowing Kainai Transition Centre to analyze site performance and make informed decisions for continuous improvement.